Central and South Eastern Europe – the CSEE – is a highly complex region comprising countries with diverse economies, pharma environments, histories and religious persuasions.
The CSEE region where we are actively present with own subsidiaries and local sales, medical and regulatory teams, plays an important role within the EU. With 53 million inhabitants, it is comparable to the size of EU5 markets.
We make it possible for you to access the whole of this diverse region through one contact point and thus enable you to significantly lower your workload and costs.
Top 5 reasons to enter Medis' CSEE region:
The pharma market in these 11 countries now tops 12.5 billion euros and is still growing.
Improved economic outlook and stability.
GDP growth and decrease in unemployment are driving pharma spending.
Markets opening up to reimbursement of high-value innovative and orphan medicines.
Constantly evolving research and academic infrastructure.

Most interesting economic and pharma facts from the region:
(Click on the picture to enlarge)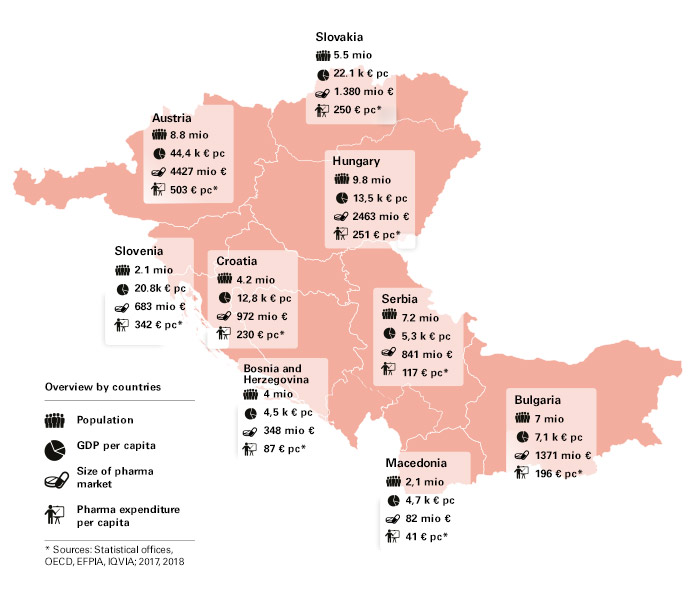 The CSEE region continues to be a region with a high pharmaceutical market growth potential
There are many obstacles a company must overcome to be successful in the CSEE markets. In-depth knowledge of the pharma environment, strong market access expertise, solid, professional relationships with HCPs, authorities and PAGs, as well as knowing the culture and language are crucial.
With its long-term presence in the region, Medis has managed to acquire vast experiences, knowledge and an in-depth understanding of the smallest markets of Europe. Our partners benefit from our local presence – Medis has its own subsidiaries in 8 countries of the region - where our motivated sales, medical and regulatory teams are strongly following Medis' mission to meet unfulfilled local medical needs of physicians and patients.